Home
Details

Written by

Andrew S

Category: Uncategorised
Hits: 824
Eightball Tasmania have been working with Tasmania Sport and Recreation for our Plan on return to sport.
The Plan has been approved and is now in effect for Eightball Tasmania and all the Affiliate Associations that fall under Eightball Tasmania.
The good news here is those affiliated association will not need to develop their own plan and then have it individually approved (Please note if a member association wants to have their own plan they will need it individually approved and updated as required)
As the State body we do recommend to our member associations that they do let their Hotels / Clubs know the plan and has been approved to use and they work closely with their venue on what Plan they also have in place and a return to sport.
This plan as the restrictions change will be updated and approved by Sport and Recreation so from an affiliated association there will be very little to do expect you know of the latest changes and adhere to them, as the document changes it will be updated here to the latest version and emailed to our associations.
Details

Written by

Andrew S

Category: Uncategorised
Hits: 465
 Eightball Tasmania have been busy in the background working with Tasmania Sport and Recreation (Tasmanian Government) on what will be required for -

1. The State Body to resume at some stage.
2. Member Associations of Eightball Tasmania for competition play.

We have been advised that the main body and our member association will all need a COVID-19 Safety Plan and the plan to be approved to return to a competition basis in the future.
We hope to have a model Safety COVID-19 Plan distributed in the next week to our members to adopt / not adopt / tweak as they require, it will be up to each Association on what they may decide to do with the plan, but will give our members some guidance.
Reminder to member associations we would assume you will also need to work closely with your venues on rules when and if you return to a competition basis - Thank you Tony for your help in putting this together so far.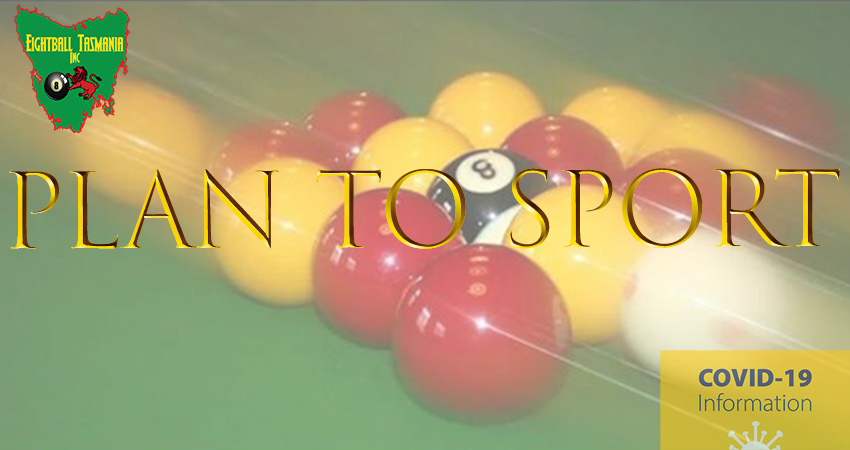 Details

Written by

Andrew S

Category: Uncategorised
Hits: 1116
Early this evening our major sponsors were told of the postponement of our 2020 State Calendar of Events and issue the following statement to our players -
Effectively Immediately
Eightball Tasmania are postponing ALL State Events on our Calendar for 2020 until further notice, this includes the State Open Singles set down for April 4th and 5th.
We believe this is in the best interests of our playing members, families, venues we play at and the general public's health and is in light of how things have changed in the last few days since we had announced that it was 'Business as Usual'
While our senior body the Australian Eightball Federation have not made an official announcement on the issue, we are now forced to and believe that this is in our best interest for all stake holders and we hope you all understand.
We will keep you updated as things may change and if we can run any events, but for now it is a No.
Eightball Tasmania - Wishes to also recommend to our member Associations to consider suspending all matches in your weekly rosters and any upcoming rosters, combined games.
Regards Phil Dando
President EightBall Tasmania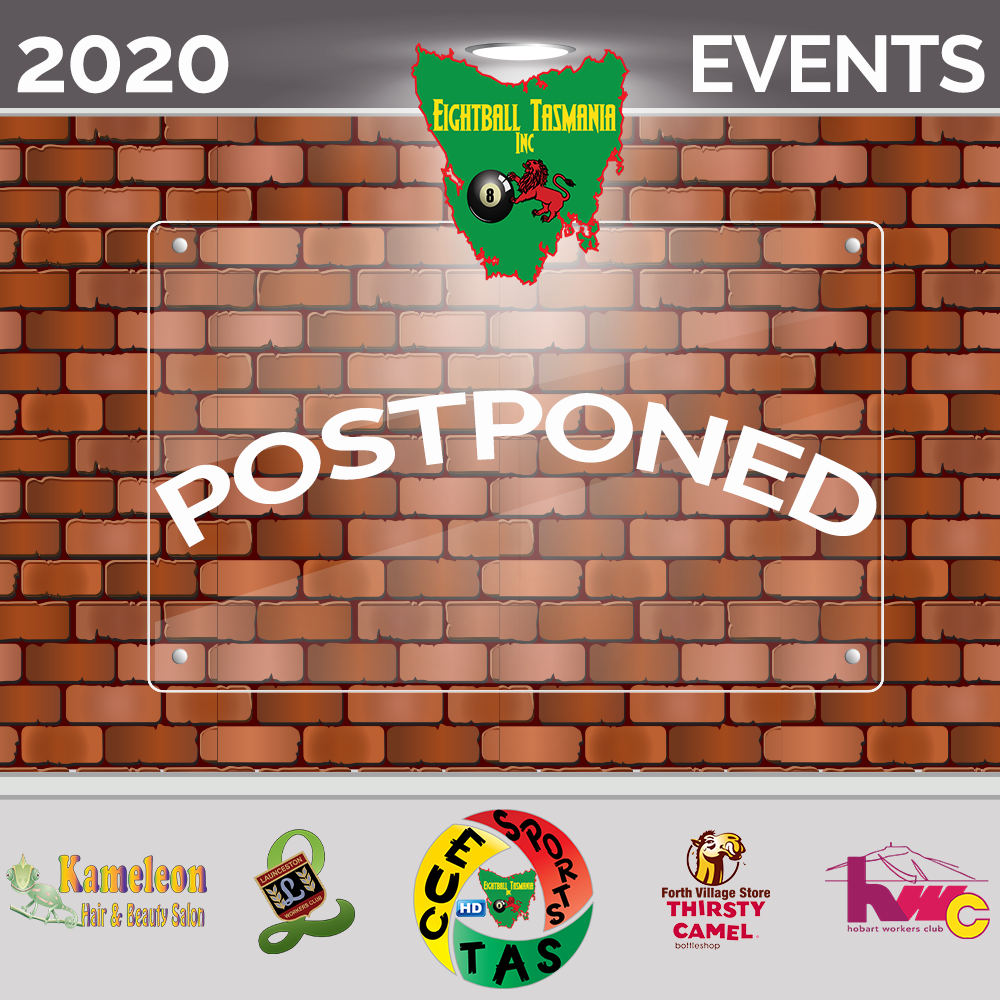 Details

Written by

Andrew S

Category: Results / Events 2020
Hits: 1656
2020 State Calender
Calender  Released (below)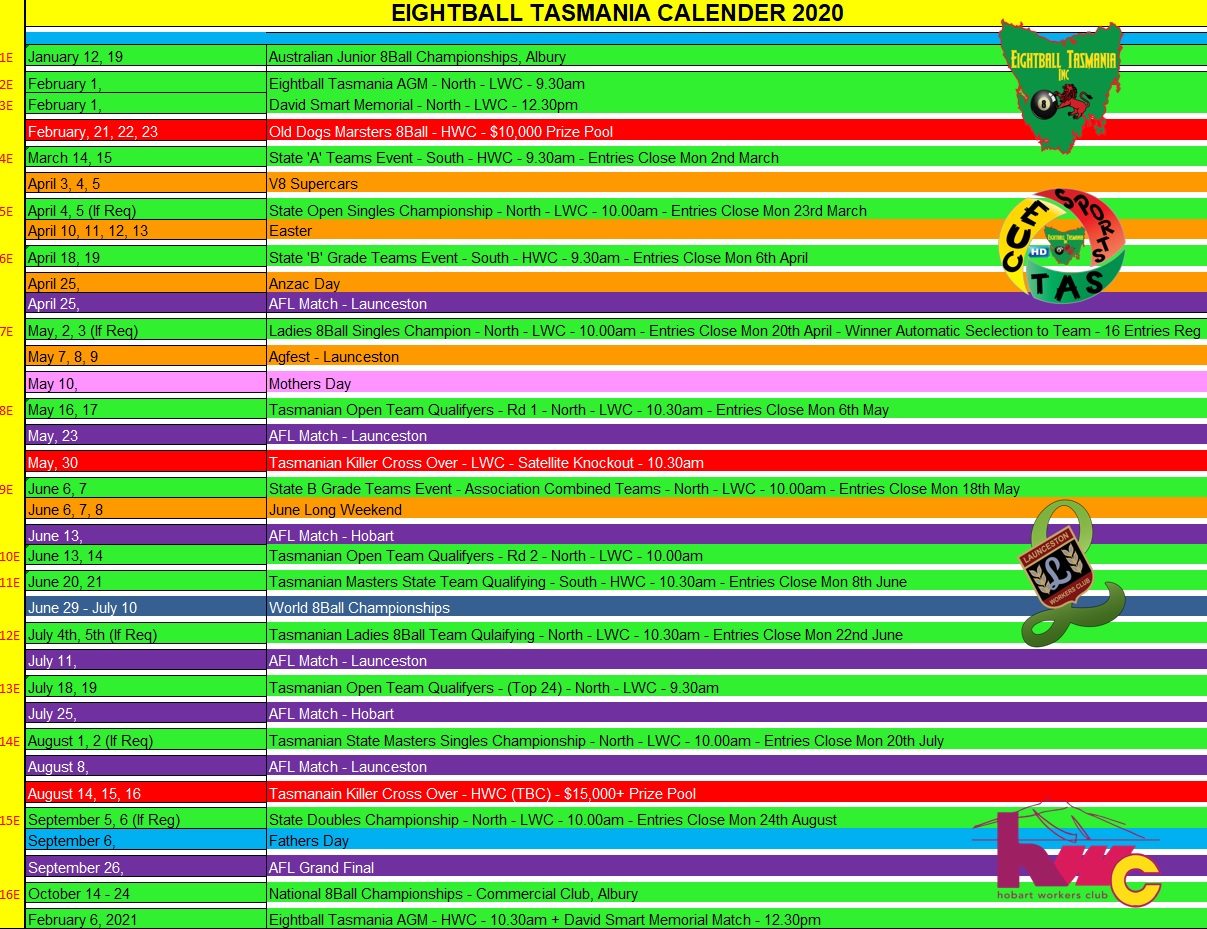 ***Events Close 12 days prior***
All Events must be paid for before the day of the event, either by our BSB details which is on our online entry form and will be emailed to you once you when you enter an event and provide a valid email address or payment by cheque or Australia Post money order by prior arrangment.
No Cash Entry will be accepted on the day of the event and you will be ineligible to play